Susan H. – April 15, 2015

I got my diamond reset from yellow gold to white gold and I absolutely love the new ring. I like the fact that I received custom, personal service. I also liked that the business has been at the same location for years.
---
Jennifer N Ben Stoltzfoos – November 8, 2015

5 stars – Beautiful quality jewelry and outstanding service!
---
Charlotte Ingram – October 24, 2014

I Recommend this jewelry store. They do fabulous work and very nice customer care. Thank you very much for all that you have done for us.
---
Jennifer S Moore – January 18, 2014

I get all of my jewelry from here!!! Love them!
Author Profile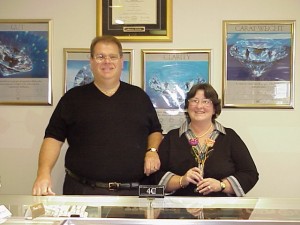 Steve's Fine Jewelry has been serving the Lancaster & Southern Chester County area since 1991. For over 24 years, we have featured high quality diamond engagement rings custom made in exquisite mountings of platinum, 18K gold, and 14k gold.

Let us design the ring of your dreams just for you.

Many of our designs are available in white gold, platinum, yellow and mixed color golds, and palladium. Steve's Fine Jewelry offers a large selection of fine quality wedding band brands such as Benchmark, Guertain Brothers, Stuller, and our own designs. Looking for a unique style wedding band? We offer Celtic and Claddaugh wedding bands along with many other distinctive styles and custom designs.

We also offer fine quality natural gemstone and pearl jewelry of all types and styles. If you like, we can custom make a beautiful gemstone or pearl jewelry suite in your choice of gold or platinum.

While you find the large chain stores offering mostly Lab Created gems or low quality gemstones, Steve's Fine Jewelry has a large selection of natural gems displaying the colors of the rainbow.

Some of the gemstones featured include Alexandrite, Amethyst, Aquamarine, Bloodstone, Chalcedony, Citrine, Coral, Emerald, Mozambique Garnet, Rhodolite Garnet, Tsavorite (green) Garnet, Iolite, Jade, Moonstone, Crystal Opal, Boulder Opal, Fire Opal, Peridot, Colored Quartz, Ruby, Blue Sapphire, Pink Sapphire, Yellow sapphire, Tanzanite, Tiger Eye, Blue Topaz, Precious (golden) Topaz, Green & Pink Tourmaline, and Blue Zircon.

Qualifications, Certifications, & Recognitions
Steven Marino
Diamonds Graduate Diploma
Colored Gemstones & Gemstone Grading Certificates – Gemological Institute of America
Bachelor of Science Cum Laude – Millersville University of Pennsylvania
Diamond Setting & Jewelry Repair Certificates – Stewarts International School for Jewelers
Jewelry Repair Certificate – Drouhard National Jewelers School
Beatrice Marino – Owner & Goldsmith
Diamond Setting & Jewelry Repair Certificates – Stewarts International School for Jewelers
Jewelry Repair Certificate – Drouhard National Jewelers School